Musicians and Singers
How to make music endlessly, and be pain-free! 
Be an energetic music maker and get the ease professional music making deserves.
Walter Vaughn-Jones, Alexander Teacher trainer, Cape Town says; You know a musician is good when you can hear the silence between the notes!

The enthusiast instrumentalist and vocalist puts in endless hours to years practice and play.  Almost 90% develop injury or pain  of some sort through their playing/singing.
Musicians tend to  wrap  themselves around their instruments rather than the other way round.  Essentially they become their instrument instead of  the instrument becoming them.  And without realizing it, so much can go wrong  as time goes by.
Strings: Violinists, cellists; double bass; viola; guitar; harp etc;
Wind instruments; clarinetists, oboists, bassoonist, French horn, and particularly flautists;
Keyboard: Pianists and organists;
Percussion: Percussionists; drummers
Voice: Singers, class teachers, poetry readers, dramatists and vocalists
Alexander Technique is not about teaching how to play the instrument: But how to  play yourself best!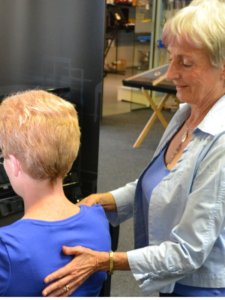 In January 2013, a documentary on Sky TV presented an excerpt of David Attenborough's interview with Sir Colin Davis, an eminent English conductor. While Sir Adrian Cedric Boult was in the audience, Sir Colin (then 28 years old) was conducting with great aplomb and waving around.
After the concert, Sir Adrien went backstage to tell Mr Davis that if he continued in this fashion he would become a cripple.
Subsequently Mr Davis sought out the Alexander Technique and when next he saw Sir Adrien, the quietness and strength was marked. Now in his 80s he is known for his poise and grace as a conductor.
For more information email Jann